eShard is pleased and proud to announce the establishment of its new group subsidiary in Germany, eShard GmbH. With this step, eShard bolsters its footprint in the DACH region, adding Germany to its global presences in France, Singapore and UK.
Opening eShard GmbH is a big step forward in eShard's strategy for developing its security in software activities. With the German team subsidiary, eShard aims at extending its technical expertise and offering in backend pentesting, increasing the diversity and international footprint, and strengthening its management structure.
The German team is based in Bonn, at the heart of cybersecurity in Germany, and provides local access to eShard's solutions and services concerned with security in ICs and software, including mobile apps, IoT devices and backend systems.
With this step, eShard continues its success story in the DACH region and its glocal mission: think global, act local.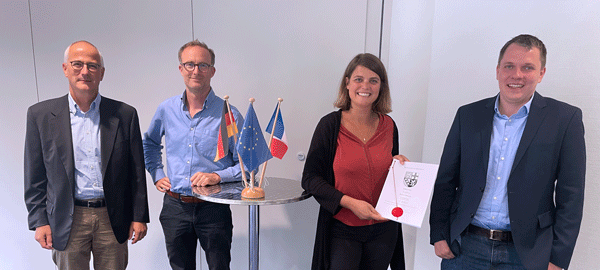 About eShard
eShard is a leading, independent security expert for in-depth security in ICs, software and IoT devices. Since 2016, the company has developed internationally in Europe, North America and Asia, supporting companies such as Google, NXP, Qualcomm, Thales, Visa, etc.
Working in defense and aerospace, finance, high-tech, health and semiconductor industries, the company helps its customers to address the complex security challenges related to cybersecurity, including protection of personal data, transactions, and intellectual property. eShard provides its cutting edge software solutions esDynamics and esChecker as well as security expertise services such as mobile application and backend penetration testing.
eShard is headquartered in Bordeaux, France, and has offices in France, Singapore, UK and Germany. Today, eShard group has more than 35 experts.